Meet the Sales team – Malcolm Plum
In the lead up to IMHX, we spoke to Business Development Manager Malcolm Plum who will be attending the show and asked him about his career, his passion for motorbikes and changes in the mezzanine industry.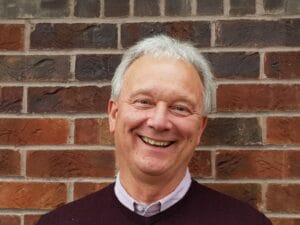 1. How did you arrive in the mezzanine floor sector?
My background was in work study and time & motion. I was an engineer at my father's clothing factory and helped to optimise the efficiency of the workplace to increase the number of garments we could produce. After stints at other manufacturers I moved into racking, materials handling and fit out, and I was introduced to mezzanines from there. I've been in the same line of business ever since.
2. What's the biggest change you've seen in your career?
The logistics industry is changing fast with the introduction of robotics etc, but I'd say the introduction of 38mm particle board was still the biggest change in the mezzanine sector. We used a lot more steel when we used poor quality chipboard. To give you an idea, we had 406mm centre joists whereas now we're talking 700mm as the decking is stronger. As the decking improved, we needed less joists, and fewer joints means less steel for the customer. It was a game changer.
3. Favourite form of transport?
Once a biker, always a biker! I remember arriving at customers' premises on my 1500 Goldwing when I ran my own company, with my suitcase, tie and jacket in the pannier. It was always a good conversation starter!
4. What's the best part of your job?
It has to be getting an order, I get a lot of job satisfaction from that because I get involved in the design layout and work very closely with the customer on nailing exactly what they need. I enjoy the collaboration and feeling proud with the finished result.
5. What's your favourite tipple?
I'm a gin man – nothing fancy, with just soda or water.
6. What's your proudest moment?
Obviously I have to say my wedding day to my lovely wife – we tied the knot in Runaway Bay in Jamaica which was stunning. Work-wise it was finally winning a fit out order from a particular customer with very specific taste for their offices. I ended up flying them out to Italy to introduce them to an Italian furniture manufacturer's showroom – not your average job!
7. Where do you go to switch off and relax?
In the past it used to be bike rallies – we'd attend one or two a month, often on the continent, with the motorbike club. These days I relax at home with the family and my dogs – there's nothing better than sitting out on the decking with a drink watching the kids play.
8. If you had to recommend one film, what would it be?
The Shawshank Redemption is one of my favourites, but I think I'd recommend The Fifth Element as it's so quirky. I must have watched it about 7 times!
9. What advice would you give to someone starting out in Sales?
Like most young people, when I started my career I looked up to others and tried to emulate them. Now I'd recommend you find your own technique and sell as yourself, rather than trying to copy someone else with a different style. You've got to be authentic to build relationships. And don't forget to listen.
10. What's been your best holiday so far?
My wife and I used to be quite spontaneous and take off on our bike for a week. I remember we decided one Friday to attend a rally in Italy, so we simply set off without a map or any idea of how to get there. 'Head to Marseille and turn left' was the plan! We ended up in the Mediterranean near St Tropez and had a fantastic time exploring Cannes, Nice, Monte Carlo etc. We never made it over the border to Italy! Sometimes it's best just to go with the flow.
11. Do you have a funniest moment you can share from work?
Not one particular moment, I just have very fond memories of my very early fit out days when my colleagues and I would sometimes work late and end up at the local pub, play dice and stay over as it was also a B&B. I recall once playing for the use of my MD's car over the weekend, but given I had a company car and he owned both cars it wasn't much of a bet!! It was a different life back then – happy days.
12. Who has been the biggest influence in your life?
My parents, without a doubt. They were both fabulous and taught me how to be a good person. Today it's my wife who has managed to rein me in and fine tune me to perfection!