Meet the Sales team – Neil Woodland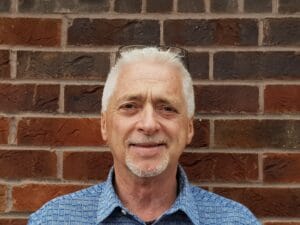 In the first of our more informal features, we chatted to Business Development Manager Neil Woodland about IMHX, what's driven his career to date and his love of Italy.
What was your route into the industry?
I qualified as a Mechanical Engineer and my career started in a large paper mill in Devon. I then moved into project management and operations management within the mezzanine and fit out sectors. I'd worked with Hi-Level as a supplier for six years and got to know the staff well. I found them very personable and professional, and for me it's all about the people.
Are you a morning person?
Yes, I'm very much an early bird – luckily my wife is too! I get up at about 5am, do my exercises and am often on the road by 6.30am. If I'm working from home I'm often at my desk by 7.30am. But this means at night I'm absolutely rubbish, I can't stay awake!
Which superhero power would you most like?
It would have to be Iron Man as he's fleet of foot, incredibly fast, and is as hard as nails…similar to myself!! 😊
What makes you happiest at work?
Throughout my career I've always been driven by completing every project to the customer's complete satisfaction – walking away from a professional installation has always been very rewarding. Even though I'm no longer project managing, I like to keep in touch with my customers during the process and ensure they are happy.
Driving is a big part of the role when you work in sales. What music do you listen to on the road?
I admit I'm a Smooth Radio man (can I say that?) as I love the 70s, 80s and 90s. The Beach Boys are my favourite band – 'God Only Knows' has to be the best track ever. I guess I'm nostalgic as I used to surf in Cornwall when I was in my late teens, great memories.
What's key to customer satisfaction for you?
Good communication, being always available, understanding the needs of the customer and being professional and conscientious.
How have you seen the mezzanine floor sector evolve?
When I first started in the industry, quotes would take at least two weeks to produce. All correspondence was by fax, telephone calls were made in kiosks and customers were generally very patient. Today expectations are very different, and it's all about speed. We need to respond quickly to urgent enquiries, and luckily our very accurate online quoting system and estimators can help ensure we achieve this.
Why did you choose a career in Sales?
I spent 30 years in project management which was rewarding but very stressful at times, and I was ready for a change. Sales is all about people which I love, and I get such a buzz from helping to solve a customer's problem and getting an order – it means I've listened and we've got it right.
What was your first car?
My first car was a light blue Ford Cortina Mk1 which cost £150. I was so skint at the time my poor dad had to lend me £75….I never did pay him back, whoops!
What makes you tick?
I love selling, building relationships and providing good service – I still believe in the phrase 'the customer is king'. Outside of work I love watching Worcester Rugby who I've followed for over 25 years, and I'm lucky to have such a great family.
Home or away for holidays?
A little bit of both. I love visiting Italy for the architecture, the food and people watching and Lake Garda has to be my favourite place on earth. Amsterdam is also lovely – it's so friendly and we get chatting to interesting people every time we go. Long weekends in large country hotels in the UK are also great. Visiting pubs, villages and attractions, what's not to like?
What are you most looking forward to at IMHX this year?
I love the noise and energy of the NEC, meeting my old industry friends, chatting to existing customers and discussing potential new projects with new customers. The time always goes so quickly!