Belt & Braces About Quality and Safety
Working at height requires a diligent approach to health & safety, something we take very seriously at Hi-Level. We're a leading UK supplier of bespoke mezzanine floors and adhere to all relevant British and European standards.
The philosophy of our company has remained consistent over the years: to deliver high quality value-engineered solutions and keep people safe while working at height. We don't cut corners – we do things right.
As a result we've put a robust framework in place to protect the safety of our customers and our staff and ensure the quality and design of our bespoke product is fit for purpose.
Here's an overview of our commitment to raising the standard with health & safety and being 'belt and braces' about our responsibility as a mezzanine floor supplier and contractor:
We work primarily as a Contractor under CDM – The Construction (Design and Management) Regulations 2015. CDM applies to all building and construction work and includes new build, demolition, refurbishment, extensions, conversions, repair and maintenance.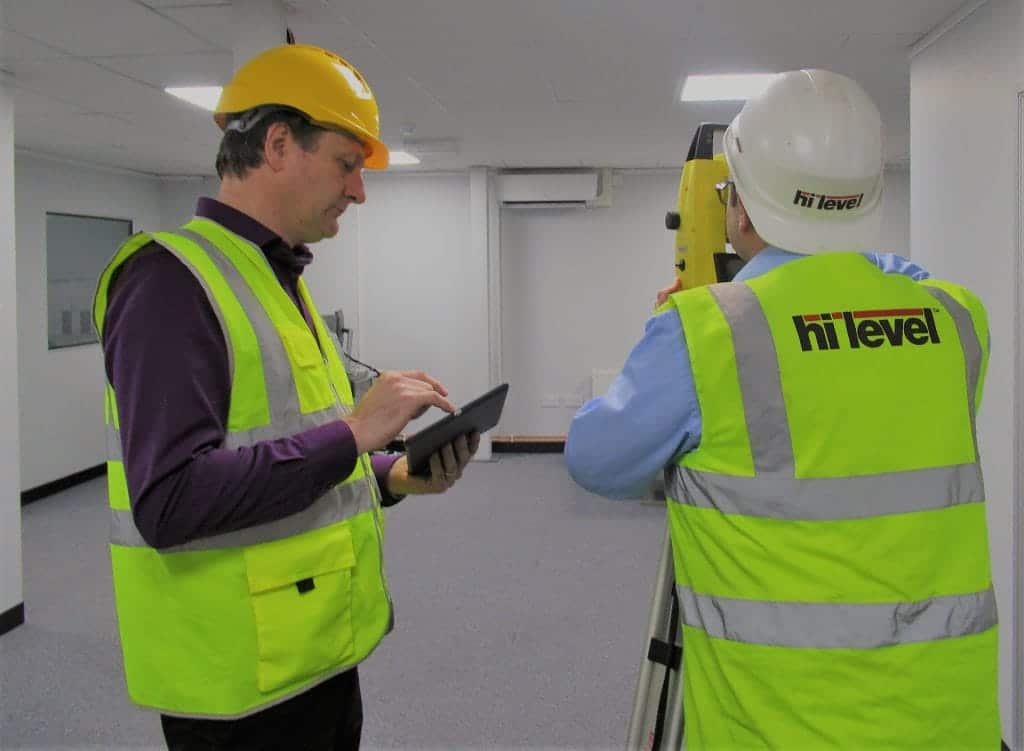 When we are appointed as a Contractor on a construction project, we are aware we have the responsibility to manage and control health and safety risks for our employees and any contractors (including self-employed sub-contractors) that we have appointed. To do this we will:
Provide detail on meeting the Client's requirements.
Review and implement mitigation on any pre-construction information provided by the Principal Designer.
Review the relevant parts of the construction phase plan and any other requirements identified by the Principal Contractor.
Only use a workforce that have the right skills, knowledge, training, experience and provide suitable levels of supervision for those working on our behalf.
Ensure those carrying out the work that the Company have been appointed to complete have the right plant, tools, equipment, materials and personal protective equipment.
Provide relevant information and instructions to workers by briefing workers on relevant risk assessment and method statements.
Co-ordinate our work with those of other contractors and the Principal Contractor.
Inform the Principal Contractor of any intention to sub-contract elements of our work.
OHSAS 18001
We're proud to hold OHSAS 18001 accreditation, the Occupational Health & Safety Assessment Series. It is intended to help an organisation control occupational health and safety risk and to have a standard by which to be assessed and certificated.
CHAS
We hold CHAS (The Contractors Health & Safety Assessment Scheme) accredited contractor status. We're also an approved SSIP contractor (Safety Schemes in Procurement). This gives our customers confidence that we have been assessed by a recognised body and we meet the necessary minimum standards in health, safety and environmental management. In reality we go far beyond these standards and have additional safeguards in place to minimise risk.
Risk Assessment & Method Statement (RAMS)
A personalised RAMS booklet is sent by Hi-Level to our customers and installation teams for every project. This comprehensive document covers the majority of the day to day activities for carrying out work as a competent mezzanine installation contractor.
This includes our decking method using safety nets, our rescue procedures, our working at height edge protection system, the use of ladders and risk assessments.
No Permit, No Access Policy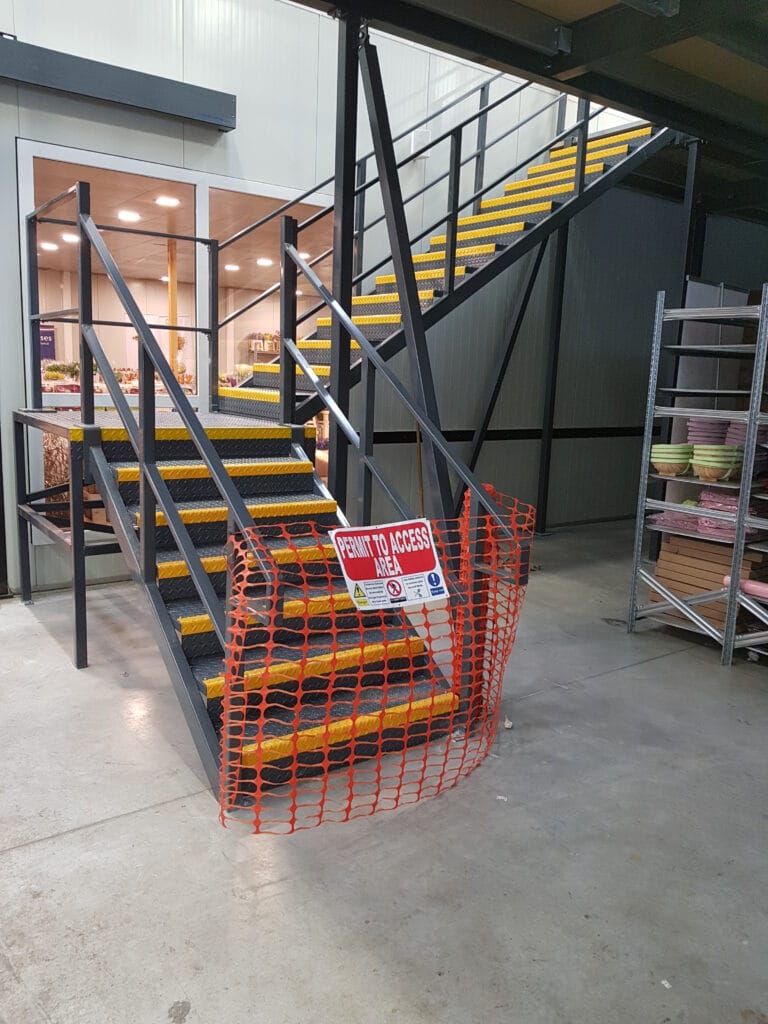 The work area on site is closely controlled and access is restricted where necessary.
Highly visible staircase access restrictors are put in place when the installation teams leave site and these are only removed by the Principal Contractor after handover from Hi-Level.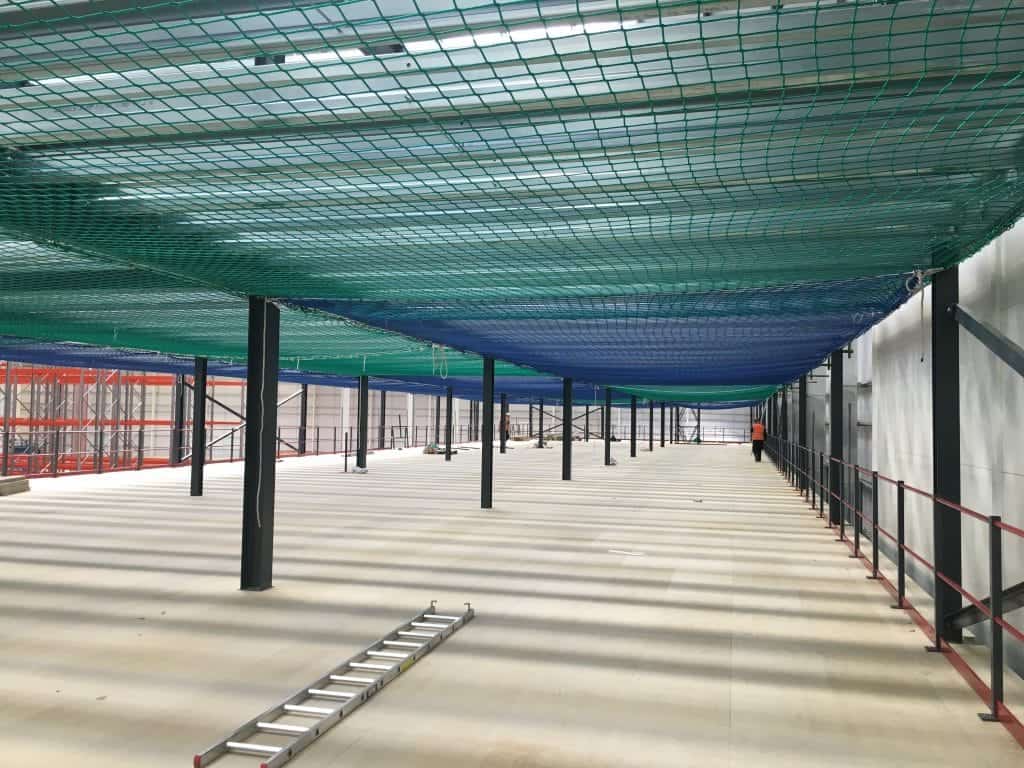 We have created our own safety netting system called NetSafe, to help ensure the safety of our contracted installation teams when working at height.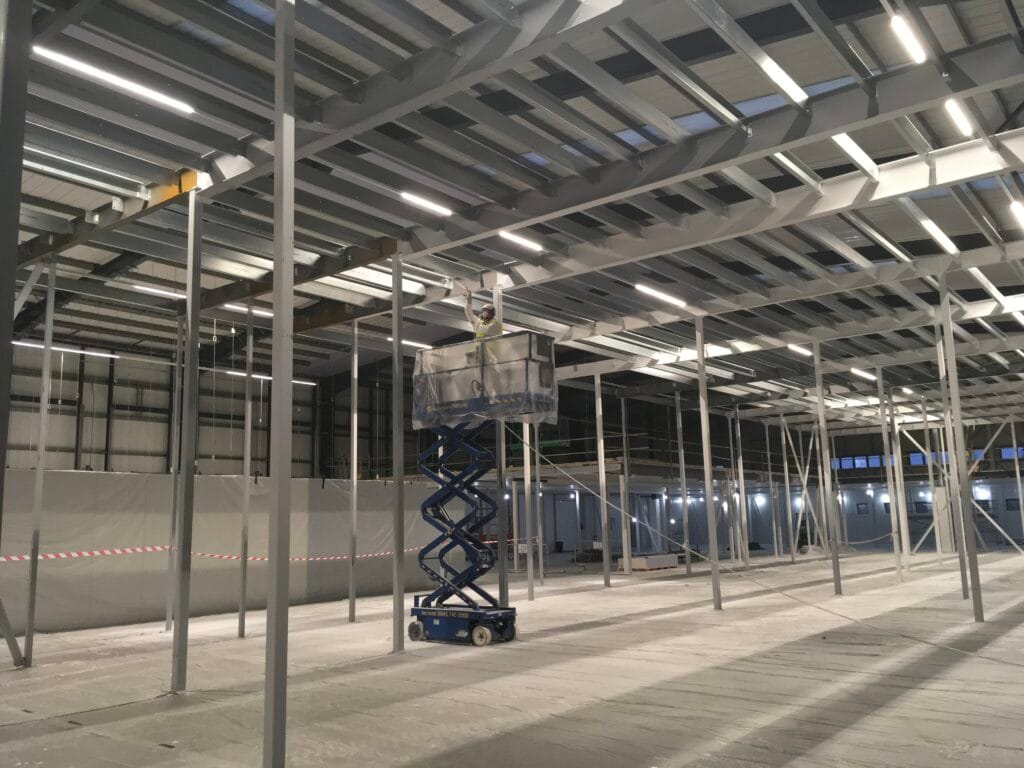 In addition to our robust approach to health and safety, we are equally committed to ensuring the design and quality of our product is fit for purpose. All our floors are designed by experienced Structural Engineers following a site survey. Our value-engineered approach means we aim to optimise the amount of structural steel in our floors to reduce our environmental impact and help reduce costs for our customer.
We are externally audited and hold both CE mark and ISO 9001 certifications. We have integrated OHSAS 18001, ISO 9001 Quality Management and ISO 14001 Environmental Management into our working process to create not only a quality, safe and environmentally aware product, but also a quality customer focused experience when working together.
FOR MORE INFORMATION, READ OUR PAGES BELOW:
About Us | Industry Sectors | Our Work | Building Regulations | Quality Standards