The Challenge
Hi-Level worked with Martins Fixings to provide a mezzanine floor installation for Jaguar Land Rover as they expand their pre-production line in Coventry.
A bespoke design was required to provide a mezzanine over a single level that was future proof to produce additional storage for the parts department. It was particularly important to provide clear areas on the ground floor so that production equipment could be incorporated and positioned where required.
Hi-Level's creative approach and previous success in providing mezzanine floors to fulfil highly specific requirements were the leading factors for undertaking such a project.
The Criteria
The final requirements of the project were detailed as follows:
Decking to take very high point loads across the entire area
Clear areas to the ground floor for maximum flexibility
Positioned on the existing low capacity floor slab
The Solution and Result
Polished concrete composite decking was incorporated into a wide span steelwork structure. This highly durable product is extremely strong and robust, incorporating a concrete topping cast onto metal decking. Additional qualities such as water resistance, sound proof and fire protection made it perfectly suited for the project. The decking created a multipurpose mezzanine area that could confidently cope with the high point loads of their various equipment. The wide span structure beneath created a workspace comparatively free from vertical obstructions giving maximum flexibility to JLR for further storage below.
The wide spans resulted in markedly fewer ground floor columns than typical which in turn generated higher than usual column loads for the existing slab to cope with. Hi-Level's solution was to design and supply pile foundations beneath the column baseplates creating a seamless integration into the existing slab. JLR were able to maintain their productivity levels and use the building throughout the project.
Hi-Level installers worked as part of an overall team in a fully programmed project involving many other trades to deliver the final product on time and fully fitted for immediate occupation by JLR. The works were integrated into a closely controlled working schedule within a fully functioning building which necessitated Hi-Level working out of hours and providing an accelerated build with no disruption to JLR's day-to-day activities.
Adrian Williams, Hi-Level Project Manager Comments:
"This was a project where Hi-Level's expert engineers produced a design that was greatly beneficial to JLR's productivity and overall logistical performance. We ensured that we met all the specific requirements Jaguar Land Rover had set out with minimal disruption to their operations. Both Hi-Level and our client were delighted with the finished product"
Please get in touch with our sales team if you have any questions regarding previous projects.
Double Mezzanine Floors For Bread and Pastry Specialists Celtic Bakers in London
The Client & Challenge
To design, supply and install two individual mezzanine floors for client Celtic Bakers, a North London based wholesale bakery specialising in hand-crafted breads, cakes and patisserie.
The Criteria
The client wished to increase their storage capacity whilst also separately creating a space for employees to change into their uniform before and after work.
The Solution
Design and build two separate floors.
The smallest floor measuring 5.2m x 8.5m, and designed as a changing space for bakery employees.
The second floor, measuring 10.95m x 13.8m, and designed as a space to hold additional storage.
Include bio-degradable food safe ceiling tile suitable for a bakery environment, as well as fire protection and additional staircasing.
The Result
The floor was finished on time and in budget at the beginning of 2017, resulting in another champion installation from Hi-Level!
Tom Russell Director of Celtic Bakers comments, "We are very impressed with both mezzanines, the quality is excellent, thank you to hi-level".
Please get in touch with our sales team if you have any questions regarding previous projects.
Tallest Free Standing And Self-Supported Mezzanine Floor In The UK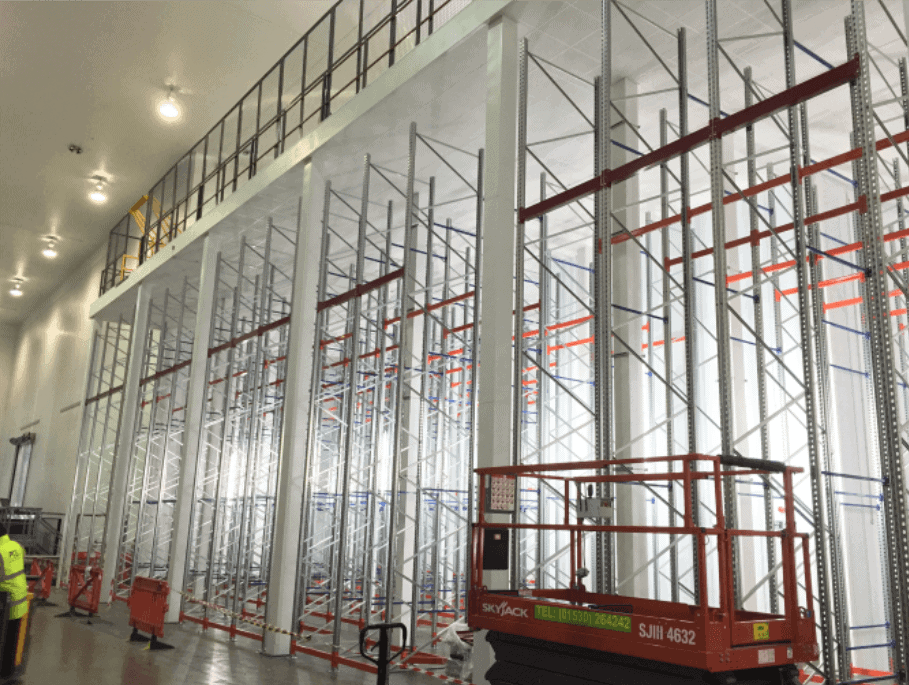 The Challenge
Hi-Level Mezzanines and Altis Projects came together to supply, deliver and install a single tier mezzanine within a 3 PL warehouse operating at 2 °C.
The Criteria
The client required a mezzanine floor along with suspended ceiling, fascia and an enclosed fire protected staircase. Additionally, the build had to allow for the installation of a new dynamic FILO pallet racking system in order for the client to maximise pallet spaces and create a new production area.
The Solution
To install and finish floor with a level of 8.4 metres (considered to be one of the UK's tallest free standing and self-supported mezzanine floors).
Design to take a 1200 kg pallet using new EGGER OSB HDX panel, a lighter alternative to a traditional 38mm particleboard.
Finish with rubber floor covering, mezzanine mesh partition guard, specially designed pallet gates and enclose staircase from floor to ceiling with fire rated fridge panels.
The Result
It was a tall order but the project was completed in June 2016 within the allocated time-frame and in budget after 3 weeks of construction!
Altis projects chose Hi-Level Mezzanine Floors specifically, due to their ability to design a floor to accommodate pallet loads whilst achieving the required height to allow for pallet racking installation. Additionally Hi-Level were able to design a floor that could be completed on the existing floor slab.
Please get in touch with our sales team if you have any questions regarding previous projects.
Production Floor For The Meantime Brewing Company
Meantime Brewing
Meantime Brewery was founded in 2002 in Greenwich, London. The company is now one of the UK's largest craft brewers and still continues to make its beers in the same way, having built a state-of-the-art brewery in 2010.
The Project
Following exponential sales growth, Meantime Brewing needed to double its production, so they asked a Hi-Level Mezzanines distributor to investigate installing a mezzanine floor to increase capacity at their brewery.
The distributor together with Hi-Level Mezzanines, consulted with Meantime Brewing to came up with an optimum design that took into account the unique requirements and challenges posed by the site.
The main challenge was the client's program for the refit of the brewery which involved relocation of the bottle and keg filling lines and the fit out for additional brewing tanks in an adjacent building. It also entailed the inclusion of a new sloped concrete and tiled floor to facilitate drainage of liquids into central drainage gullies.
As the fit out already had a tight program scheduled, which meant interruption to the clients production for a period, the mezzanine build had to fit into key stages of the whole project.
This entailed initially building the mezzanine frame to enable the new concrete floor to be laid over the baseplates of the mezzanine (which needed to be sat on a level slab), then part of the frame was removed to allow access to install the large brewing tanks. This was achieved by designing sleeved removable mezzanine columns, leaving the lower mezzanine column sections in situ buried in the new slab.
Further key stages of the build entailed phased installation of the remaining mezzanine parts to fit in with the relocation of the production machinery.
The Results
The mezzanine floor provides Meantime Brewery with an additional 214 square metres storage space.
It was imperative that there were no delays that might hold up brewery production, Hi-Level and their distributor completed the project both within the strict deadline and within budget.
Please get in touch with our sales team if you have any questions regarding previous projects.
Budget Calculator
Receive a competitive price using our precise budget generator
Budget calculator
What our clients say
"The job was completed by Hi-Level very efficiently and in a professional manner".