The Challenge
A distributor working for ASAP International contracted Hi-Level to refurbish and remodel a railway arch within their client's new office space. Hi-Level devised a bespoke solution that included a single-tier mezzanine structure, suspended ceiling, fascia and fire lobby around the staircase. Due to the railway arch's limited ventilation, they also required fresh air to internal offices.
The build was to be completed with carpets, recessed floor boxes for power and data to the open plan office area, and a new bathroom to the rear of the arch. There were to be two offices at ground level alongside an open area large enough for fork truck accessibility. The mezzanine floor would also have two offices, as well as an open-plan office and computer cupboard. The first floor required lighting and electrics, and the distributor requested a ground smoke detection system.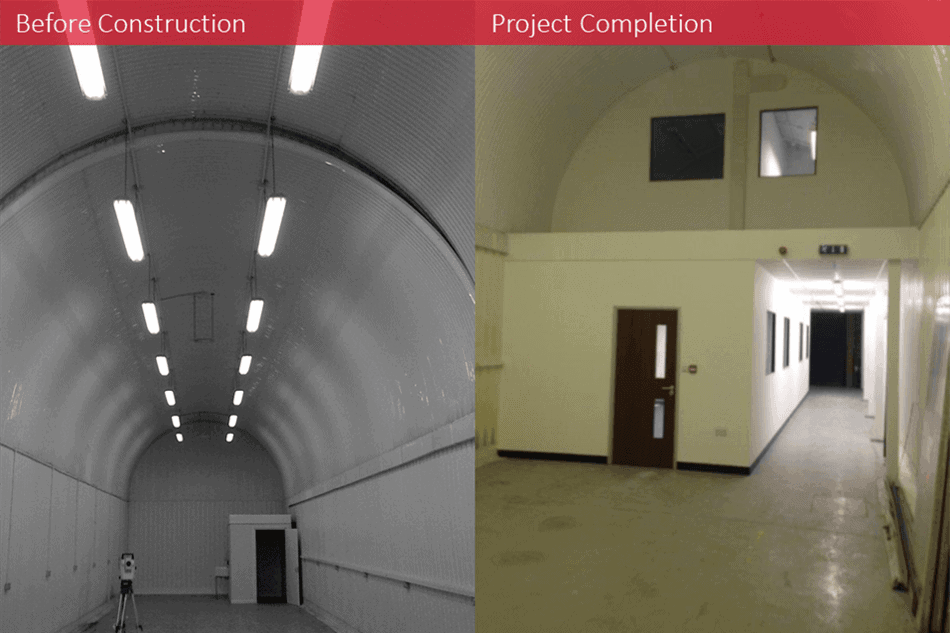 The Criteria
The mezzanine requirements of the project were as follows:
66.3m² floor size
4.8kN/m² live load
Ancllaries: general access staircase and 1m handrail
Fire protection
The Solution and Result
The distributor selected Hi-level due to their successful ongoing relationship. The distributor's Project Manager stated, "Having worked together on several mezzanine projects, we knew Hi-Level had the expertise to provide a turnkey solution. Having a single point of contact for all the trades was essential to the smooth running and accuracy of the project. Creating an office storage solution in such a unique setting meant the client needed an experienced team, and together we were able to provide that."
Hi-Level and their distributor worked together on the complex task of cutting in the partition stud wall into the curvature of the railway arch. The project had to be undertaken with careful planning and organisation due to the limited space available. Hi-Level had to implement a design that achieved the required office space and suitable floor space underneath the mezzanine for fork trucks to access the storage area located at the back of the premises.
The project was completed on-time (four weeks onsite) and within budget. The Hi-Level Project Manager stated, "The key element of this project was the pre-installation design work, as this ensured we could provide the working areas the client required within the railway arch's limited space."
Testimonial
"The guys were efficient, worked well, and ensured we were informed about the project's progress. On the whole, the project went very well."
Managing Director of ASAP International.