We are often asked "Will my mezzanine floor need fire protection?".
Well…the answer is more than likely, yes. But don't hold us to that. All mezzanine floors should be assessed on an individual basis and subject to building regulations.
Fire protection is an important and necessary part of building regulations, it's purpose is to slow the spread of fire and maintain structural integrity of the mezzanine long enough to allow safe exit for employees and entry for fire fighters.
There are still some exceptions when fire protection is not necessary, generally speaking these are if a mezzanine floor is for storage purposes only in addition to covering less 50% of the area in the building its occupying, measures less than 20m x 20m in either direction and is located in a typically low risk environment.
Mezzanine floors that are intended to be used for anything other than storage (i.e. retail/public use) will need fire protection irrespective of size.
At Hi-Level we offer several cost effective fire protection solutions including:
One Hour Fire Rated Suspended Ceiling 
Our most popular and economical method of fire protection. A suspended ceiling hangs vertically from underneath the mezzanine floor.
One Hour Fire Rated Fascia
To protect exposed edges of the mezzanine floor.
One Hour Fire Column Casings 
Fire rated column casings protect the steel work on columns against fire damage.
Other fire protection methods to consider include:
Fire walls
Sprinkler systems
Smoke detection systems 
We appreciate the importance of safety for our customers which is why we treat every floor uniquely. If you have any further questions or seek advice on fire protection options, please contact us directly. We are always happy to help!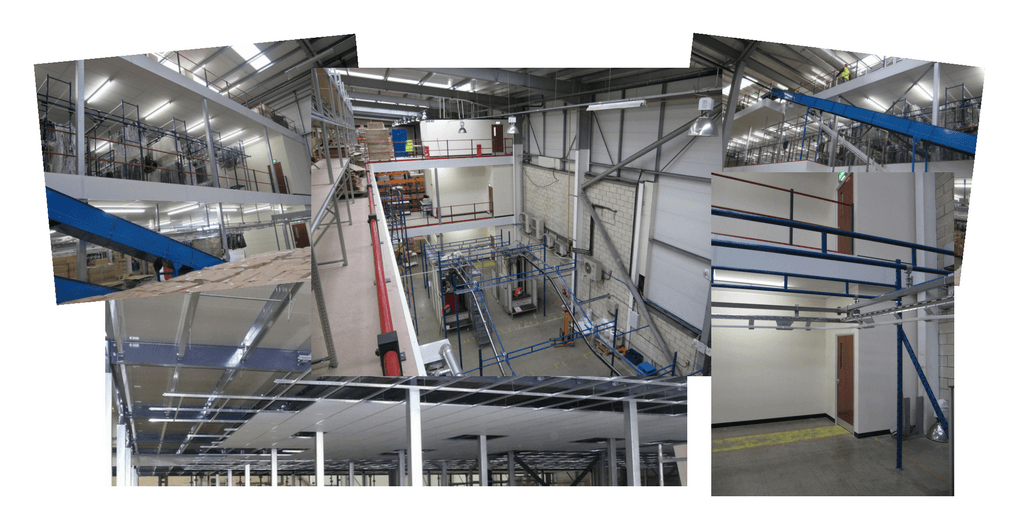 Ready to get in touch? Request a quote or call us on +44 (0) 1730 190
How Installing A Mezzanine Floor Can Help You Expand Without Losing Customers
Relocating a business to new premises is a complex process and one of the biggest worries that businesses have is the potential of losing customers.
Whether you are a new company with a growing reputation or a well established one with loyal customers, chances are that you are either beginning to, or in fact have already, cemented your location in your customer's minds. So, moving away to somewhere unknown has many potential pitfalls and challenges.
People often underestimate just how big a task it is to inform your customers of a relocation. Once you have found suitable premises to move too, which can be difficult in its own right, and then set a date to move in, you will more than likely need to close your business down for a period of time while you relocate all of your inventory and belongings. During this time it's important that you make your customers aware that you are moving, otherwise they may get the impression from an empty building and unanswered telephones that you have closed down.
Next, you will need to change of all your stationary and letterheads to feature your new address and purchase new business cards. However, even if you replace these, it is likely that there will still be some in circulation featuring your old address, which could again result in lost business.
There is also your online presence to consider. Most businesses these days have websites and social media accounts such as Facebook, LinkedIn, Google+ & Twitter, which will all need updating with your new address. Then you will need to track down your web developer to update your website, which may also incur a fee. That is just the online presence that is easy to control. How many online directories and sites are there out there which contain your details which you have no control over, but may send customers or clients your way?
Of course, an easy way to get the word out about your new premises would be to hold an event, perhaps with a flash-sale or a party where you invite valued customers. However, these types of events cost money to attend and may not provide you with a return on your investment should customers not turn up.
Expand Without Moving!
It's very likely that the place you initially chose to locate your business to was at one point the ideal location. Moving to new premises is one way to upgrade your facilities but it's not the only way. You may find that investing in your current location is a much more cost effective route and limits the risk of lost business.
Here at Hi-Level Mezzanine we have extensive experience helping businesses to upgrade their facilities either to help them meet growing demand or to make it happen. Whether through installing a mezzanine floor which makes the most of unused vertical space, or fitting out and refurbishing office spaces we can help your business to expand without risking all your hard work.
Get in touch with us today – Request a quote or call us on +44 (0) 1730 190
3 Reasons Why Businesses Turn To Mezzanine Flooring
Over the years Hi Level has positioned itself as one of Europe's leading mezzanine flooring specialists, helping to supply flooring to businesses across the retail, warehousing and production sectors. But what are some of the common reasons why businesses approach us to install mezzanine flooring and what solutions does it provide?
They've outgrown their facilities
Year on year growth is something that everyone hopes for and looks forward to. But when it happens you may feel unprepared and unsure as to how best to manage it.  A good business manager will look at how they are set up for growth and will review every aspect of their operations, from staffing to processes and location. Often at the end of this they will come to the realisation that they need to move to larger premises. Unfortunately, with relocation comes lots of added costs and the type of property that they need might not be available or is simply too expensive. In addition to this, moving to pastures new can mean upset for your staff and your customers and also a costly period of downtime while you migrate your business elsewhere.
They want their business to be more efficient
In today's highly competitive market it's vital to be constantly improving the way your business operates. Failing to uncover these problems and missing opportunities to 'work smarter' can leave you constantly chasing the coattails of your competition.  By regularly talking to their staff and reviewing operations, business owners will often discover that there is a need to make significant changes to their premises that will foster growth.
They don't want to expand too fast
Another reason that companies opt for mezzanine floors is that they don't want to expand too quickly.  For businesses that are experiencing a period of growth for the first time, there is a legitimately held fear that the 'bubble' might burst at any moment, so the idea of relocating to expand their business and the higher costs that it involves seems like a big risk. They want their business to be set up to maintain both busy periods and quiet periods but don't want to get ahead of themselves and take a big financial risk.
How mezzanine floors can help
Mezzanine floors provide a solution to all three of these problems. They help businesses to expand from within, improve their efficiencies and become adaptable to shifting sales and changing markets.
A mezzanine floor allows you to double your floor space and make the most of overhead space that would normally be wasted. This space can be used for whatever purpose your business requires, everything from holding more stock, creating an office space or staff room, providing extra seating for customers or hosting new machinery and production lines. It can also be an effective way to reorganise your premises and create a space which is more productive and more competitive.
Whereas relocating a business to a new premises can be time heavy, expensive and risky, installing a mezzanine floor is cost effective, takes very little time and can be constructed in a way that has little to no impact on your day to day operations.  What's more a mezzanine floor can be dismantled at any time and taken with you to a new site should you later decide to relocate.
Get in touch with us today – Request a quote or call us on +44 (0) 1730 190
Redesigning Car Showrooms To Increase Sales
Car dealerships take design very seriously, and so they should with such high levels of competition. Increasingly car dealerships are taking their showrooms to the next level, not only with spacious, multi-tiered designs but also by incorporating touch screen technology, ambient lighting and even cafes where customers can receive complementary food and drink while they ponder their purchase.
With such heavy levels of competition it's important that car dealerships are not only designed well but also that they optimise space so as to accommodate the best selection of vehicular eye-candy possible.
Customers do not take car purchases lightly, especially when purchasing brand new vehicles, and will likely take their time and visit various different dealerships. If you're dealership is crowded, boxy and has no private areas where customers can be given the star treatment then they risk the chance of losing out.
Here at Hi-Level we provide top of the range commercial interiors and have years of experience working in the retail sector. Whether through an all-purpose mezzanine floor built to maximise the vertical space in your showroom, or state-of-the-art office partitions that allow your customers to talk numbers or complete paperwork in privacy, we can help you create the perfect platform for your products.
If you are interested in how we can benefit your business, please call Hi Level Mezzanines on 01730 237 190 or click here to request a quote.
Budget Calculator
Receive a competitive price using our precise budget generator
Budget calculator
What our clients say
"Very pleased with the attention to detail, a high standard of Health and Safety throughout the project, thanks for delivering a great job".