The Challenge
Hi-Level were the selected mezzanine floor provider for a global transport and logistics company. The company recently built a new warehousing facility in Peterborough to further enhance services for their logistics division. Based on previous successful projects and our ability to execute design briefs, Butler & Willow partnered with us again to create a three-tier mezzanine area for handling goods and supporting lightweight conveyor systems. Hi-Level were faced with the challenge of providing flexible working space within a tight deadline.
The Criteria
The final requirements of the project were detailed as follows:
1381m² floor area per tier (4143m² total)
8kN/m² point load
4 safety pallet gates per tier
2 tower staircases
Ground floor column guard
The Solution and Result
The three floors were created to maintain their structural integrity across the entire mezzanine floor through crucial positioning of the columns. In addition, the ground floor area was kept brace free to provide maximum flexibility for storage. Ancillaries for the project included full edge protection, tower staircases for both utility and general access, as well as safety gates per tier to ensure goods could easily be moved between the mezzanine and pallet racking. As always, safety measures were taken to ensure the mezzanine was fit for purpose. Due to the busy nature of the warehouse, we installed our safety guard system to increase the level of protection for the columns upholding the mezzanine.
The build complied with the relevant building regulations and included full fire protection. Our expert team was able to execute a design which was both practical and efficient through meticulous planning and attention to detail.
We were able to finish installation within the allocated time frame of 6 weeks to the complete satisfaction of our client.
Testimonial
"Hi-Level has previously worked with our client in delivering a mezzanine solution for their warehouse operations. Our client partnering with us again is a testament to Hi-Level's ongoing commitment to a high standard of workmanship and providing a quality service."
Clyde Finch – Hi-Level Project Manager
Please get in touch with our sales team if you have any questions regarding previous projects.
Tips for Increasing Retail Shop Floor Capacity
Every foot of floor space counts in retail to maximise revenue. Optimising this space to its full potential can be challenging when balancing the desire to showcase your product range with creating an engaging customer experience.
Over the years, e-commerce has rapidly grown in popularity leaving some high-street retailers uncertain about the future of physical stores. Many factors have driven this change including speed of delivery, convenience and variety of product options available with online shopping. While the changing retail landscape can feel quite daunting, the demand for physical stores still stands. An article by Furity revealed high-street shoppers appreciated the tactile experience of handling products, social interaction and customer service. Instead of fearing about the effects e-commerce could have on their business, retailers are encouraged to adapt their stores to meet the changes in buying behaviour.
Our tips discuss how you can enhance your store to increase your capacity and improve your customers' shopping experience:
---
Overcrowding Areas
Retailers who are limited in space may tend to overcrowd areas in a bid to show as much product as possible. However, an overcrowded shop floor can make it difficult for customers to find what they're looking for and potentially drive them away.
Solution: Some simple solutions include displaying fewer items of each variation or prioritising best-selling products to free up your store. A greater remedy is integrating a mezzanine floor for premises with unused vertical space. Mezzanines create a new shop floor area which can also increase sales per square foot. The longer people stay in your location, the higher the chances they'll make a purchase. Absolute Music integrated a mezzanine floor, creating two separate sales zones in-store and enabling them to better showcase their products.
---
Product Placement
In retail environments, the presentation of your shop floor is one of the first impressions customers have of your business. Your products may not have the chance to catch the public's eye if they're poorly placed. Ensuring you have a strategy in place and keeping an eye on your least and most popular products will avoid wasting precious floor space.
Solution: Being creative with your space is an effective way of keeping customers interested. The first stage is monitoring sales reports to prioritise which products deserve the best placement. Secondly, why not try using a variety of shelving, displays or creating different areas within your store? Keeping your customers captivated at every turn can go a long way. We designed a mezzanine area for Jollyes Pet Food to house a small grooming facility whilst the ground floor was open and spacious to showcase products.
---
Lack of Storage
Overcrowded areas can often be a result of lack of storage. Whilst the front of house is mainly prioritised, the back of house is equally as important for storage and maintaining stock levels.
Solution: The more stock you can keep in-house, the easier it is to constantly replenish shelves and give customers what they want. We provided DKNY with additional storage space to keep up with their growing demands.  Our mezzanine floors can support heavy loads and shelving to ensure you maximise your premises.
---

How Hi-Level Can Help
We have transformed a variety of retail stores across the UK through the installation of bespoke mezzanine floors. Our designs are all uniquely created to suit the exact needs and requirements of a business, giving them optimal space to maximise sales.
We understand the importance of having both a functional back-of-house and visually appealing aesthetics on the shop floor. Our industrial mezzanines are designed to cope with all heavy-duty equipment or storage. For the front of house, we provide our feature mezzanine range, executed to the highest standard with stainless steel glass handrail. Regardless of your business type, full customisation is available from the steps and handrails to the flooring.
Call our sales team today for how our mezzanine solutions could transform your retail space.
Running out of Warehouse Space? 3 Benefits of Not Relocating
60% of warehouses are now used by retailers, with food production and pharmaceutical industries storing extra supplies ahead of Brexit (Via BBC). Such pressures have directly contributed to a near doubling in demand for storage space, especially in the past year. As the UK gears up for Brexit and the crunch for capacity surges, considering your next plan of action is essential. Our 3 key points provide a rundown of why you may not need to relocate or buy more space and the most practical solution for you.
---
1st Benefit: Productivity Losses
One of the biggest points to consider is how you will keep your warehouse efficiently running during the transition phase. Every second counts with customers and jeopardising your operations could be a recipe for disaster. For example, ASOS minimised any disruption by keeping increasing storage capacity within their existing distribution centre.
---

2nd Benefit: Budget & Cost of Relocating
According to IBISWorld, the cost of industrial production facilities is anticipated to rise as consumers continue to spend. Rent prices are a discouraging factor for many businesses and purchasing additional premises can be very costly. Instead, companies such as Jaguar Land Rover have been able to boost their work performance by re-configuring their existing space for additional storage.
---
3rd Benefit: Lack of Availability  
As a result of the UK's insatiable appetite for e-commerce and pressures to stockpile goods, the rate of available warehouses is gradually decreasing. Recent articles have shown premises are filling up as online retail sales boom and suppliers prepare for all possible contingencies in the build-up to Brexit (Via The Guardian). Such events have meant the market has become more competitive with relocating becoming a high-risk option.
---
Solution
Assessing your existing space is the first stage in elevating your premises. Small changes such as creating room for racking can boost how much stock you are able to store and be the initial step in reducing costs.
Maximising your interior structure with separate floors/rooms can be greatly beneficial in making your business more efficient. The addition of a new mezzanine floor could help optimise your vertical space for storage, stock control or employee workspace.
How Hi-Level Can Help
Our mezzanine floors are uniquely designed to be a practical addition in any business premises. Their robust configuration can take extremely high point loads and can be used for holding conveyer systems, heavy-duty machines or automation systems. Regardless of the size of your project, our floors provide the optimal solution for expanding production in your warehouse. Our expect project managers have assisted many leading companies in designing a mezzanine floor to drive new opportunities.
Contact our sales team today
Warehouse Storage Ideas – Organising Stock Ahead of Brexit
Having an integrated warehouse system is essential for smooth and efficient business operations. With Brexit bringing uncertainty to such operations, preparing your stock and resources for any possible outcome can keep your warehouse successfully running. Here are some ideas on how to boost your storage.
---
Pallet Racking
These multi-level systems are commonly accompanied with a mezzanine floor. The floor provides a rigid structure for the racks to be stored comfortably, giving you maximum storage space and easing the process of retrieving goods. We were the leaders behind one of the UK's tallest, free standing mezzanine which supported the addition of pallet racking and boosted our client's production area.
---
Multi-tiered Flexibility
Arranging your work operations into different levels can have exceptional benefits on your business's productivity levels. Many premises have unused vertical space that can be transformed into productive areas. Different floors can be used for new systems, additional storage or even office space. The possibilities are endless when you have optimal space to be flexible with your business.
---
Automation Machinery
Automation systems are gradually appearing in more warehousing premises. Such change has created a demand for space solutions on how to strategically store heavy machinery and equipment. Mezzanine floors can be fabricated from concrete composite or steel to take very high point loads. Such rigid composition can provide full functionality for any complex machines you may have. You can make your warehouse both practical and efficient.
---
Stockpiling
The increasing concerns about Brexit and shortage in warehouses has led many companies to stockpile. Food and pharmaceutical industries are encouraged to be creative with their spaces in order to cause minimal disruption to customers. A mezzanine floor area enables extra stock in your warehouse, ensuring you can stay on top of operations.
---
Filing Documents
As your business operations grow, it becomes more important to store sensitive data in a safe and secure way. An organised system which provides filing space for all your physical documents is essential. Mezzanine flooring can give you a convenient area to archive and access important resources at complete ease.
Please contact our sales team for further information about how mezzanine flooring could provide an ideal storage solution.
International Electronics Supplier Expands Operations to New Heights
The Challenge
We were the selected mezzanine floor provider for an international supplier and manufacturer in the electronics industry. As the company continues to dominate their market, they required a mezzanine floor area to elevate their operations to new heights in Warrington.
Maintaining productivity levels was essential to the client and their ongoing work during warehouse operating hours. In addition, the existing shelving units could not be disturbed or dismantled during the installation process.
The Criteria
The final requirements of the project were detailed as follows:
138m² mezzanine floor area
4.8kN/m² load bearing for storage
Minimal disruption to productivity
Safety pallet gates for handling heavy goods
Custom colour to match corporate identity
The Solution and Result
Our engineers worked closely with our client to provide a bespoke mezzanine that could comfortably sit above their existing shelving units to create a new functional loading area. Using our standard 38mm particle board, our floor was the perfect affordable and practical solution for their storage plans.  As always, we provided full customised options to the industrial general access staircase, edge-protection system and pallet gates for all their heavy loading. Following our client's request, each of the ancillaries were finished in a vibrant yellow powder coating with full gloss retention.
The project was expertly wrapped up in two days as our installers worked alongside the client's team during their operating hours. As a result of close communication throughout the project, we were able to fulfil their specifications to our continuous high-quality standards within the allocated time.
Client Operations Manager Comments
"Hi-Level were very efficient with little disruption to the warehouse working practices"
Please get in touch with our sales team if you have any questions regarding previous projects.
Three Mezzanine Floors for Alliance Healthcare With Bowmer & Kirkland
The Client & Challenge
Hi-Level were delighted to have been successfully chosen to design, build and install three individual mezzanine floors for pharmaceutical organisation, Alliance Healthcare in Preston, Lancashire. This particular build was conducted through construction services group, Bowmer & Kirkland who Hi-Level have worked with previously on several other projects.
The Criteria
The project was divided into three individual mezzanine floors designed to sit seamlessly alongside an existing structure within the client's warehouse.
The floor specifications were as follows:
Floor 1 – 700 sqm 
Floor 2 – 300 sqm 
Floor 3 – 100 sqm 
The mezzanines were part of an overall reworking of the clients materials handling program. As such, they were designed to be uniquely shaped with specific steel-work arrangements to provide support over an existing conveyor system. In addition to the floors, Hi-Level supplied fire rated columns with protection.
The Solution & Result 
The mezzanines were built out of hours to ensure no disruption to the warehouse operations workers during the daytime. Shortly after the project finished, Hi-Level designed and installed a supplementary external galvanised staircase.
As always, Hi-Level's superior build quality and attentive installation management made for another successful project – leaving both parties happy!
Take a look at the finished product below:
Please get in touch with our sales team if you have any questions regarding previous projects.
Will My Mezzanine Floor Need Fire Protection?
We are often asked "Will my mezzanine floor need fire protection?".
Well…the answer is more than likely, yes. But don't hold us to that. All mezzanine floors should be assessed on an individual basis and subject to building regulations.
Fire protection is an important and necessary part of building regulations, it's purpose is to slow the spread of fire and maintain structural integrity of the mezzanine long enough to allow safe exit for employees and entry for fire fighters.
There are still some exceptions when fire protection is not necessary, generally speaking these are if a mezzanine floor is for storage purposes only in addition to covering less 50% of the area in the building its occupying, measures less than 20m x 20m in either direction and is located in a typically low risk environment.
Mezzanine floors that are intended to be used for anything other than storage (i.e. retail/public use) will need fire protection irrespective of size.
At Hi-Level we offer several cost effective fire protection solutions including:
One Hour Fire Rated Suspended Ceiling 
Our most popular and economical method of fire protection. A suspended ceiling hangs vertically from underneath the mezzanine floor.
One Hour Fire Rated Fascia
To protect exposed edges of the mezzanine floor.
One Hour Fire Column Casings 
Fire rated column casings protect the steel work on columns against fire damage.
Other fire protection methods to consider include:
Fire walls
Sprinkler systems
Smoke detection systems 
We appreciate the importance of safety for our customers which is why we treat every floor uniquely. If you have any further questions or seek advice on fire protection options, please contact us directly. We are always happy to help!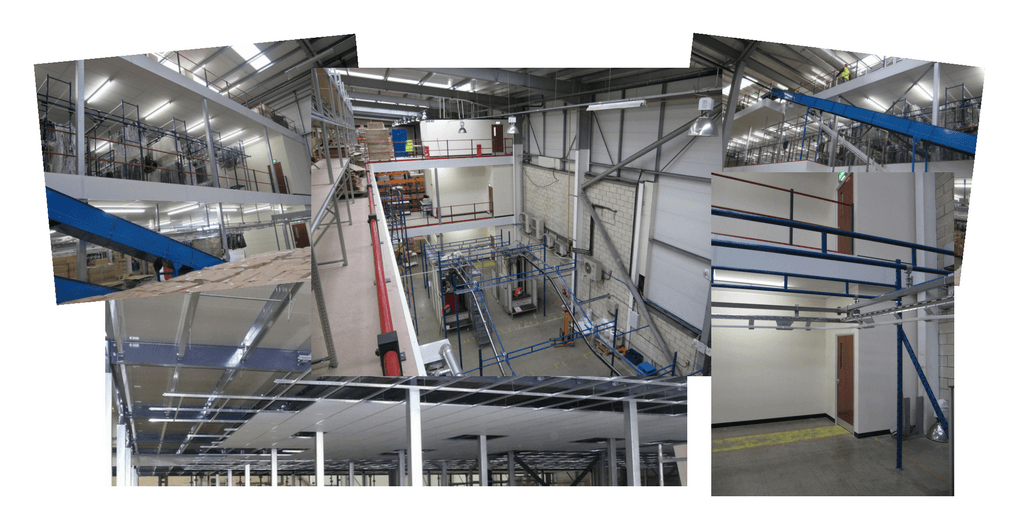 Ready to get in touch? Request a quote or call us on +44 (0) 1730 190
Retail Mezzanine Floor For Jollyes – The Pet Food Superstore
The Client & Challenge
Hi-Level were chosen to provide the mezzanine floor element as part of a larger store refurbishment for Jollyes – The Pet Food Superstore for their branch in Tonbridge, Kent.
Jollyes are one the UK's largest pet supplies stores. Founded in 1971, Jollyes now operates 61 chains across the country specialising in everything pets from food to accessories.
The Criteria
The client required a mezzanine to provide additional retail space whilst housing a small grooming facility 'The Pamper & Groom Spa'. The mezzanine was also required to accommodate a new staff room and toilet facilities.
The final requirements of the mezzanine floor project were detailed as follows:
Mezzanine Floor – 11m x 12.5m
2 Staircases – 1 Feature at the front and 1 Standard at the back
Glass Balustrade
The Solution & Result 
The project was completed over a week and finished in August 2017. All aspects of the build remained within the allocated time-frames and a high-quality finish resulting in a visually pleasing but practical new retail space for the client.
Please get in touch with our sales team if you have any questions regarding previous projects.
Our Favourite Posts Of The Past Year
With the new year approaching we want to highlight some of our favourite articles we have posted over the past year. Take a look below…
iQD The App – Interview With The Developer
In November 2016 we launched the first version of iQD The App, a pocket version of our full iQD Pro system. We sat down to chat with the developer behind the motives of creating the App and what the future holds for the development team at Hi-Level. A year on and the App has been a success for Hi-Level, it allows our sales managers to produce an accurate budget cost in seconds making it easier for them to present quotes to our customers, Malcolm Plum Business Development Manager at Hi-Level comments "It's extremely convenient that I can produce a budget quote on the move, my customers are always very impressed with the Apps speed and accuracy!".
How A Mezzanine Floor Can Benefit Restaurants and Bars
Sometimes we design and install floors within restaurants and bars across the country. This post specifically focuses on the restaurant industry, and outlines why a mezzanine floor is often the best option over relocation.
Why Should You Use A Pallet Gate To Safely Access A Mezzanine Floor?
We outline the the ways in which pallet gates provide safety in conjunction with our mezzanine floors.
4 Strategies To Increase Your Production Capacity
In this discuss some of the ways in which you can meet increased demand from customers and clients, including optimising your warehouse by improving layout and increasing storage capacity. Fun Fact – this is one of our most read posts to date!
Get in touch with us today – Request a quote or call us on +44 (0) 1730 190
Budget Calculator
Receive a competitive price using our precise budget generator
Budget calculator
What our clients say
"Hi-Level worked with Tesco on a Clothing Project and installed two 8100sqm mezzanine floors. Hi-Level delivered a smooth installation programme on time, within the agreed budget and to a very high standards.