Having an integrated warehouse system is essential for smooth and efficient business operations. With Brexit bringing uncertainty to such operations, preparing your stock and resources for any possible outcome can keep your warehouse successfully running. Here are some ideas on how to boost your storage.
---
Pallet Racking
These multi-level systems are commonly accompanied with a mezzanine floor. The floor provides a rigid structure for the racks to be stored comfortably, giving you maximum storage space and easing the process of retrieving goods. We were the leaders behind one of the UK's tallest, free standing mezzanine which supported the addition of pallet racking and boosted our client's production area.
---
Multi-tiered Flexibility
Arranging your work operations into different levels can have exceptional benefits on your business's productivity levels. Many premises have unused vertical space that can be transformed into productive areas. Different floors can be used for new systems, additional storage or even office space. The possibilities are endless when you have optimal space to be flexible with your business.
---
Automation Machinery
Automation systems are gradually appearing in more warehousing premises. Such change has created a demand for space solutions on how to strategically store heavy machinery and equipment. Mezzanine floors can be fabricated from concrete composite or steel to take very high point loads. Such rigid composition can provide full functionality for any complex machines you may have. You can make your warehouse both practical and efficient.
---
Stockpiling
The increasing concerns about Brexit and shortage in warehouses has led many companies to stockpile. Food and pharmaceutical industries are encouraged to be creative with their spaces in order to cause minimal disruption to customers. A mezzanine floor area enables extra stock in your warehouse, ensuring you can stay on top of operations.
---
Filing Documents
As your business operations grow, it becomes more important to store sensitive data in a safe and secure way. An organised system which provides filing space for all your physical documents is essential. Mezzanine flooring can give you a convenient area to archive and access important resources at complete ease.
Please contact our sales team for further information about how mezzanine flooring could provide an ideal storage solution.
Three Mezzanine Floors for Alliance Healthcare With Bowmer & Kirkland
The Client & Challenge
Hi-Level were delighted to have been successfully chosen to design, build and install three individual mezzanine floors for pharmaceutical organisation, Alliance Healthcare in Preston, Lancashire. This particular build was conducted through construction services group, Bowmer & Kirkland who Hi-Level have worked with previously on several other projects.
The Criteria
The project was divided into three individual mezzanine floors designed to sit seamlessly alongside an existing structure within the client's warehouse.
The floor specifications were as follows:
Floor 1 – 700 sqm 
Floor 2 – 300 sqm 
Floor 3 – 100 sqm 
The mezzanines were part of an overall reworking of the clients materials handling program. As such, they were designed to be uniquely shaped with specific steel-work arrangements to provide support over an existing conveyor system. In addition to the floors, Hi-Level supplied fire rated columns with protection.
The Solution & Result 
The mezzanines were built out of hours to ensure no disruption to the warehouse operations workers during the daytime. Shortly after the project finished, Hi-Level designed and installed a supplementary external galvanised staircase.
As always, Hi-Level's superior build quality and attentive installation management made for another successful project – leaving both parties happy!
Take a look at the finished product below:
Please get in touch with our sales team if you have any questions regarding previous projects.
Will My Mezzanine Floor Need Fire Protection?
We are often asked "Will my mezzanine floor need fire protection?".
Well…the answer is more than likely, yes. But don't hold us to that. All mezzanine floors should be assessed on an individual basis and subject to building regulations.
Fire protection is an important and necessary part of building regulations, it's purpose is to slow the spread of fire and maintain structural integrity of the mezzanine long enough to allow safe exit for employees and entry for fire fighters.
There are still some exceptions when fire protection is not necessary, generally speaking these are if a mezzanine floor is for storage purposes only in addition to covering less 50% of the area in the building its occupying, measures less than 20m x 20m in either direction and is located in a typically low risk environment.
Mezzanine floors that are intended to be used for anything other than storage (i.e. retail/public use) will need fire protection irrespective of size.
At Hi-Level we offer several cost effective fire protection solutions including:
One Hour Fire Rated Suspended Ceiling 
Our most popular and economical method of fire protection. A suspended ceiling hangs vertically from underneath the mezzanine floor.
One Hour Fire Rated Fascia
To protect exposed edges of the mezzanine floor.
One Hour Fire Column Casings 
Fire rated column casings protect the steel work on columns against fire damage.
Other fire protection methods to consider include:
Fire walls
Sprinkler systems
Smoke detection systems 
We appreciate the importance of safety for our customers which is why we treat every floor uniquely. If you have any further questions or seek advice on fire protection options, please contact us directly. We are always happy to help!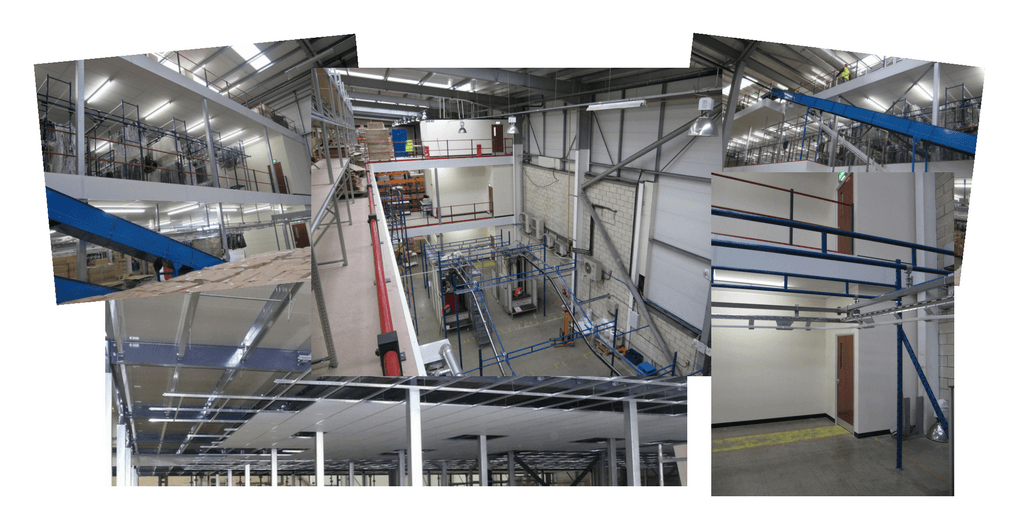 Ready to get in touch? Request a quote or call us on +44 (0) 1730 190
Retail Mezzanine Floor For Jollyes – The Pet Food Superstore
The Client & Challenge
Hi-Level were chosen to provide the mezzanine floor element as part of a larger store refurbishment for Jollyes – The Pet Food Superstore for their branch in Tonbridge, Kent.
Jollyes are one the UK's largest pet supplies stores. Founded in 1971, Jollyes now operates 61 chains across the country specialising in everything pets from food to accessories.
The Criteria
The client required a mezzanine to provide additional retail space whilst housing a small grooming facility 'The Pamper & Groom Spa'. The mezzanine was also required to accommodate a new staff room and toilet facilities.
The final requirements of the mezzanine floor project were detailed as follows:
Mezzanine Floor – 11m x 12.5m
2 Staircases – 1 Feature at the front and 1 Standard at the back
Glass Balustrade
The Solution & Result 
The project was completed over a week and finished in August 2017. All aspects of the build remained within the allocated time-frames and a high-quality finish resulting in a visually pleasing but practical new retail space for the client.
Please get in touch with our sales team if you have any questions regarding previous projects.
Our Favourite Posts Of The Past Year
With the new year approaching we want to highlight some of our favourite articles we have posted over the past year. Take a look below…
iQD The App – Interview With The Developer
In November 2016 we launched the first version of iQD The App, a pocket version of our full iQD Pro system. We sat down to chat with the developer behind the motives of creating the App and what the future holds for the development team at Hi-Level. A year on and the App has been a success for Hi-Level, it allows our sales managers to produce an accurate budget cost in seconds making it easier for them to present quotes to our customers, Malcolm Plum Business Development Manager at Hi-Level comments "It's extremely convenient that I can produce a budget quote on the move, my customers are always very impressed with the Apps speed and accuracy!".
How A Mezzanine Floor Can Benefit Restaurants and Bars
Sometimes we design and install floors within restaurants and bars across the country. This post specifically focuses on the restaurant industry, and outlines why a mezzanine floor is often the best option over relocation.
Why Should You Use A Pallet Gate To Safely Access A Mezzanine Floor?
We outline the the ways in which pallet gates provide safety in conjunction with our mezzanine floors.
4 Strategies To Increase Your Production Capacity
In this discuss some of the ways in which you can meet increased demand from customers and clients, including optimising your warehouse by improving layout and increasing storage capacity. Fun Fact – this is one of our most read posts to date!
Get in touch with us today – Request a quote or call us on +44 (0) 1730 190
With the end of the year nearing we want to make you aware of our annual office shutdown dates. The Hi-Level Offices will be closed from 1.00pm Thursday 21st Dec until 8.30am Wednesday 3rd Jan 2018.
We would like to take this opportunity to wish our customers a Merry Christmas and A Happy New Year!
Multi-tier mezzanine for major logistics company
How a new multi-tier mezzanine floor is providing a cost-effective alternative to relocating, and helping to improve productivity.
Multi-tier mezzanine for multinational retailer
How centralising warehouse and distribution facilities is providing reduced overheads and economies of scale.
Single tier mezzanine floor for Absolute Music
Budget Calculator
Receive a competitive price using our precise budget generator
Budget calculator
What our clients say
"Hi-Level were very professional, the lines of communication were excellent, especially the build team on site. If something was found to be compromising a solution was always found and mutually agreed by both parties. Out project was completed on time with no impact to regular business operations".