We are often asked "Will my mezzanine floor need fire protection?".
Well…the answer is more than likely, yes. But don't hold us to that. All mezzanine floors should be assessed on an individual basis and subject to building regulations.
Fire protection is an important and necessary part of building regulations, it's purpose is to slow the spread of fire and maintain structural integrity of the mezzanine long enough to allow safe exit for employees and entry for fire fighters.
There are still some exceptions when fire protection is not necessary, generally speaking these are if a mezzanine floor is for storage purposes only in addition to covering less 50% of the area in the building its occupying, measures less than 20m x 20m in either direction and is located in a typically low risk environment.
Mezzanine floors that are intended to be used for anything other than storage (i.e. retail/public use) will need fire protection irrespective of size.
At Hi-Level we offer several cost effective fire protection solutions including:
One Hour Fire Rated Suspended Ceiling 
Our most popular and economical method of fire protection. A suspended ceiling hangs vertically from underneath the mezzanine floor.
One Hour Fire Rated Fascia
To protect exposed edges of the mezzanine floor.
One Hour Fire Column Casings 
Fire rated column casings protect the steel work on columns against fire damage.
Other fire protection methods to consider include:
Fire walls
Sprinkler systems
Smoke detection systems 
We appreciate the importance of safety for our customers which is why we treat every floor uniquely. If you have any further questions or seek advice on fire protection options, please contact us directly. We are always happy to help!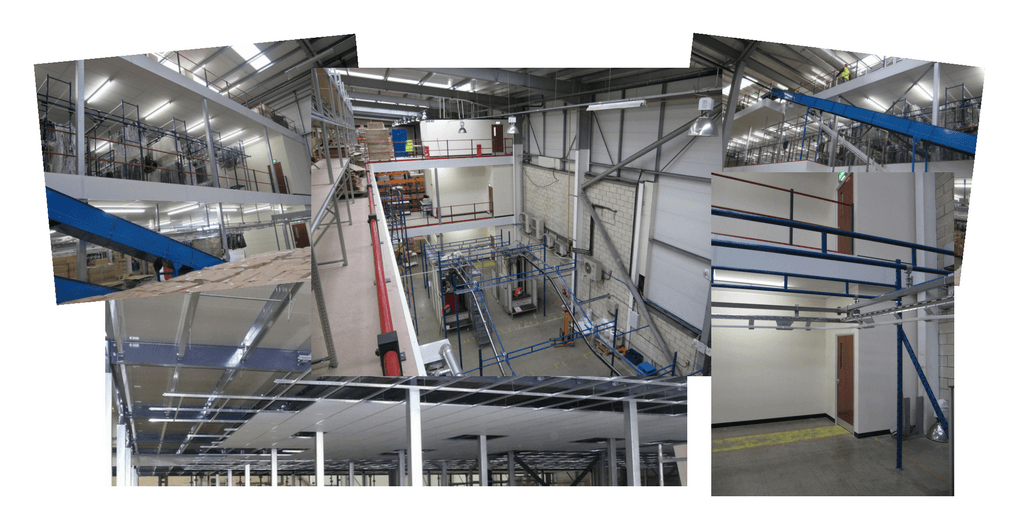 Ready to get in touch? Request a quote or call us on +44 (0) 1730 190
5 Points To Consider When Choosing A Mezzanine Floor
5 Points To Consider When Choosing A Mezzanine Floor
If you have already decided that a mezzanine floor is the best solution for your space, great, we want to help you! But what other elements need to be considered before you request a quote…
Size
It's likely you already know the size of floor you require, but it's important to be flexible. Our team will always allocate time to visit a potential site beforehand which will allow them to produce the most efficient and economical design for your space. Additionally, you may want to consider a multiple tier floor, all our floors are designed in compliance with current building regulations.
Floor Use
Consider the reason for the floor, is it to expand warehousing facilities? Increase the efficiency of automation processes? Is it for customer use in a retail store? Each of these different uses will have an impact on the overall design and additional ancillaries. We have installed floors across various industries throughout the past twenty-six years, why not take a look at the industry sector that is most appropriate to you: Retail, Office & Storage, Warehousing, Production, Automation.
Fire protection
Fire protection and mezzanine floors are covered under building regulations, depending on several factors a floor may not need to be fire rated. Don't worry, we will advise whether the floor will require this kind of protection including specific requirements such as fire walls, ceilings and sprinkler systems.
Handrail
Handrail is required on all exposed edges of a mezzanine floor for health and safety purposes. Depending on the purpose of the floor you may decide to go for a standard industrial handrail or a feature handrail which are more suited to a retail or office environment. Handrail can also be customised to suit company branding and aesthetics for customer facing floors.
Staircasing
We design staircases unique to each floor, the number of staircases needed will depend on the size and design of the floor. Take a look at our staircase page for more guidance.
At Hi-Level you can be sure that your project is taken care of from design to installation, our in-house expertise allows us to provide the best quoting and customer service possible.
Budget Calculator
Receive a competitive price using our precise budget generator
Budget calculator
What our clients say
"Great service from Hi-Level. A small but critical install in a Prison meant we had restricted

 

installation window. Project was finished early, as no time was wasted adjusting.

 

5 Stars!"