A mezzanine floor is an intermediate floor which is built between two main floors or the floor and ceiling of a building. They are designed to cover a specific area of a building rather than extending over the entire floor space. Mezzanines are installed to maximise unused vertical space, providing additional room above and below and can be built free of existing structures. Industrial settings are some of the most common places a mezzanine is built due to their high-ceilings and are usually free-standing, semi-permanent structures. Mezzanines are often custom-made, manufactured from detailed drawings and tailored to the needs and specifications of a client. Typically, mezzanines are constructed from steel and can be tailored to suit their settings.
Key components of a mezzanine floor:
Primary beams – These are the main support of the mezzanine which span across the columns
Purlins or joists – These spans between the primary beams are the fixing points for the decking
Columns – They are designed to support the primary beams and the load bearing is distributed evenly across the columns which uphold the mezzanine
Decking – The 38mm particle board is the most commonly fitted option, however other varieties include grating, durbar plate, concrete and composite decking
Mezzanine Floor Diagram: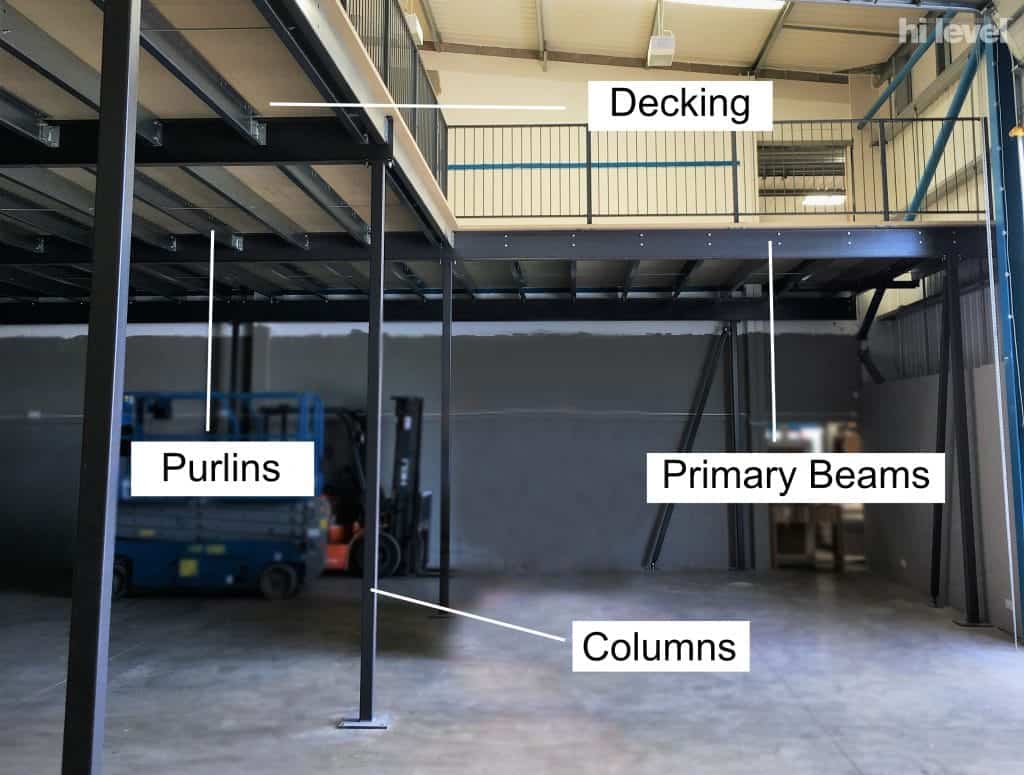 ---
Mezzanine Types Explained
There are a number of different mezzanine floor types available, suitable for a range of different applications, these include:
38mm Particle Board
High density particle board is a versatile flooring option suitable for warehouse, storage, office, and retail applications. This type of mezzanine flooring can handle medium to high point loads and is a great cost-effective option.
Forge Welded Grating
Made with a fusion of cross rods and bearing bars, forge welded grating is a rigid and heavy-duty flooring option, best suited to industrial environments such as warehouse flooring, working platforms and gangways.
Durbar Plate
Durbar plating is made from hot-rolled steel and is highly robust and durable. With a long performance life and heat-resistance up to temperatures of 500°C, it's best suited for warehouse and logistics premises, stairs, walkways and safety platforms.
Composite Decking
For premises where structural performance is key, composite concrete decking is the ideal choice. Made out of high-grade galvanised steel and particle board, it can absorb extremely heavy loads, and is perfect for commercial, automation and manufacturing premises.
---
Mezzanine Floor Ancillaries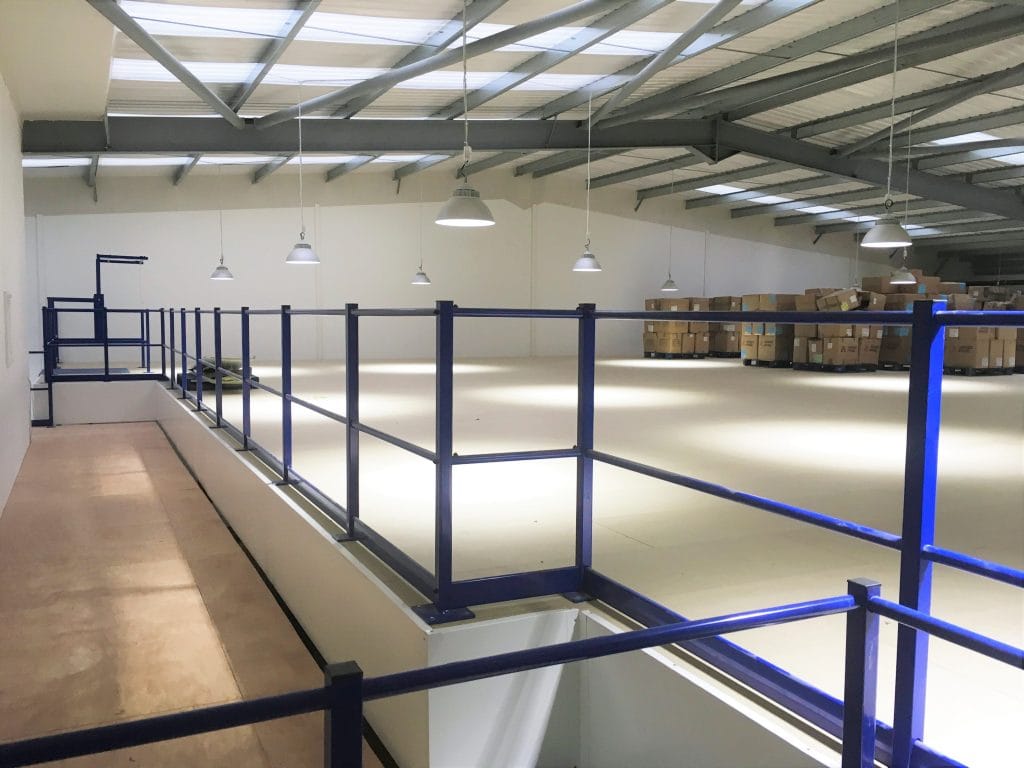 Handrails
This secures the exposed edges of the mezzanine. For industrial premises, edge-protection includes both the handrail and toe plate. For public-facing environments, the most common design is a glass balustrade system.
Staircases
The staircase provides access to the mezzanine floor and comes in a variety of designs for industrial premises and public use. The UK Building Regulations determine which type of staircase a building will need, taking into consideration the number of persons, travel distances and fire protection.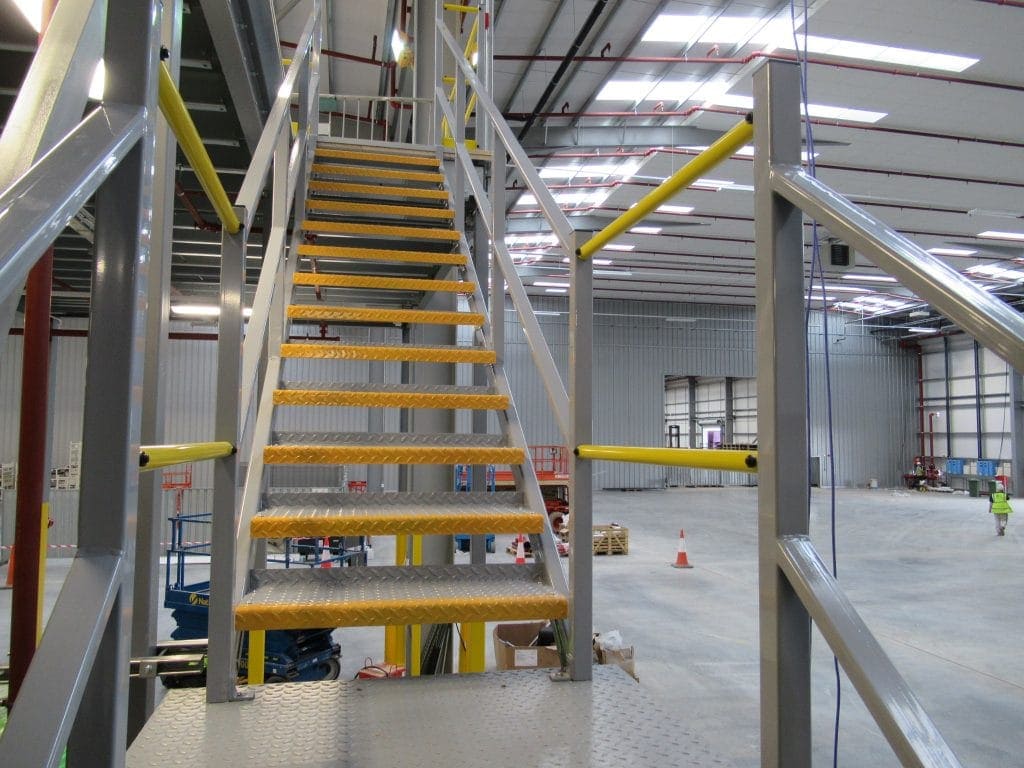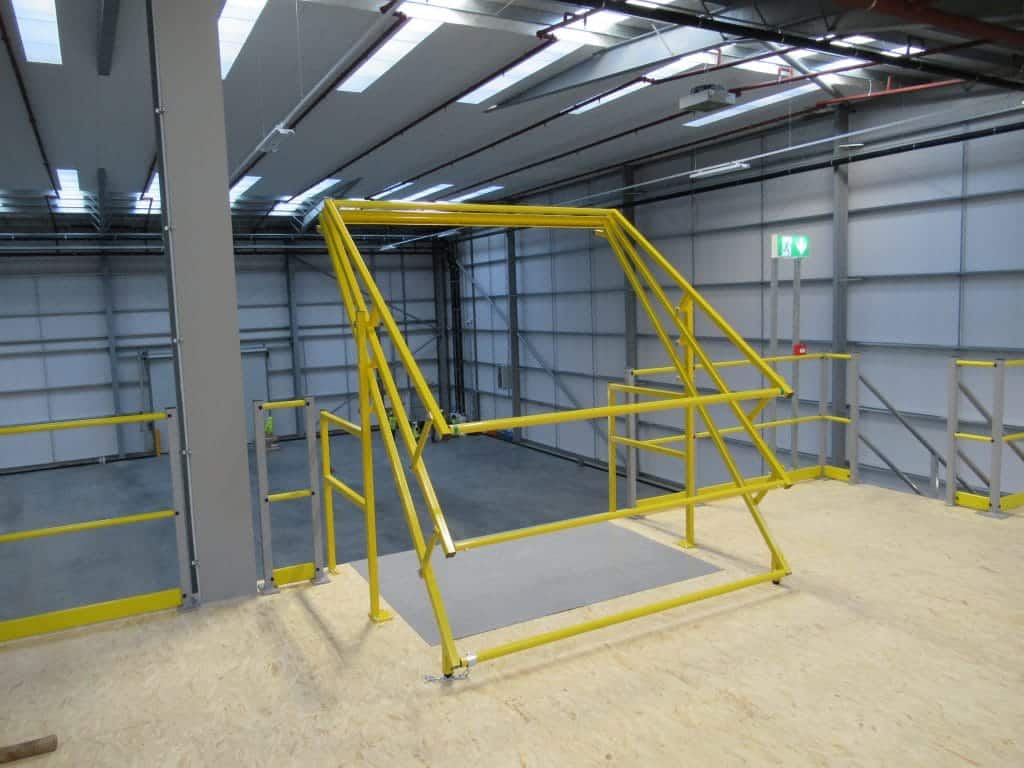 Pallet Gates
Many industrial environments opt for pallet gates to assist with loading and unloading materials onto the mezzanine floor. The pallet gates are designed to protect personnel at exposed opening points at the floor edge.
Fire Protection
Based on the UK Building Regulations, the appropriate fire protection will be applied to the mezzanine design. Generally, fire protection is required for all circumstances where the mezzanine is used for anything other than storage e.g. offices/public use.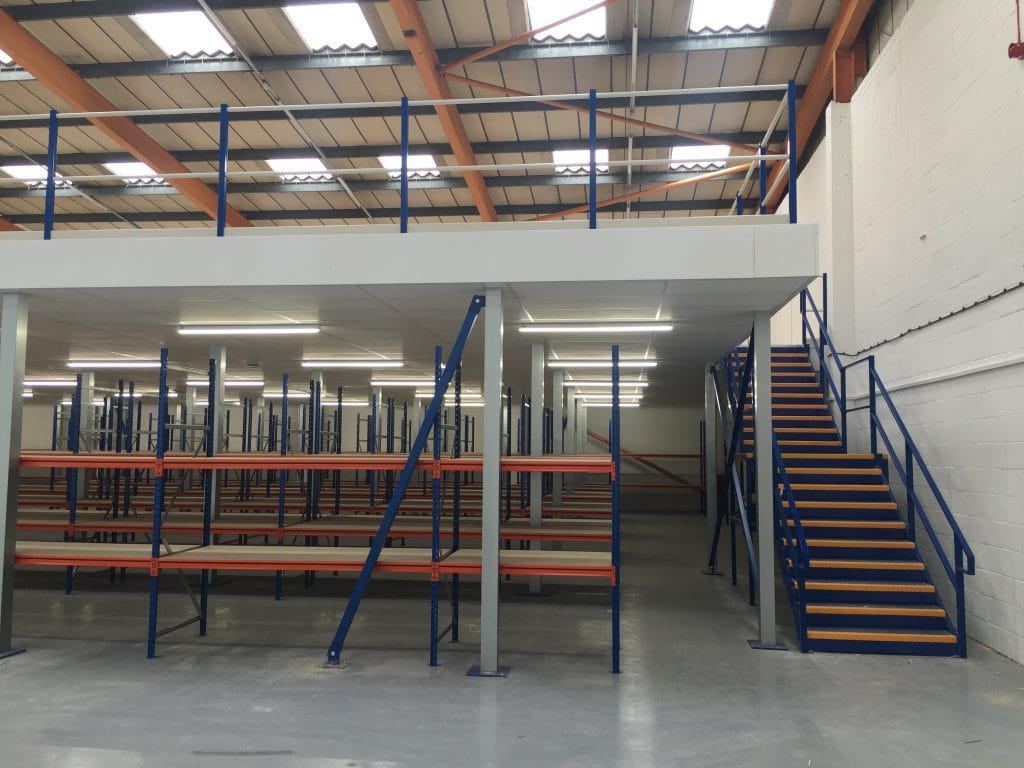 ---
Where can a mezzanine floor be used?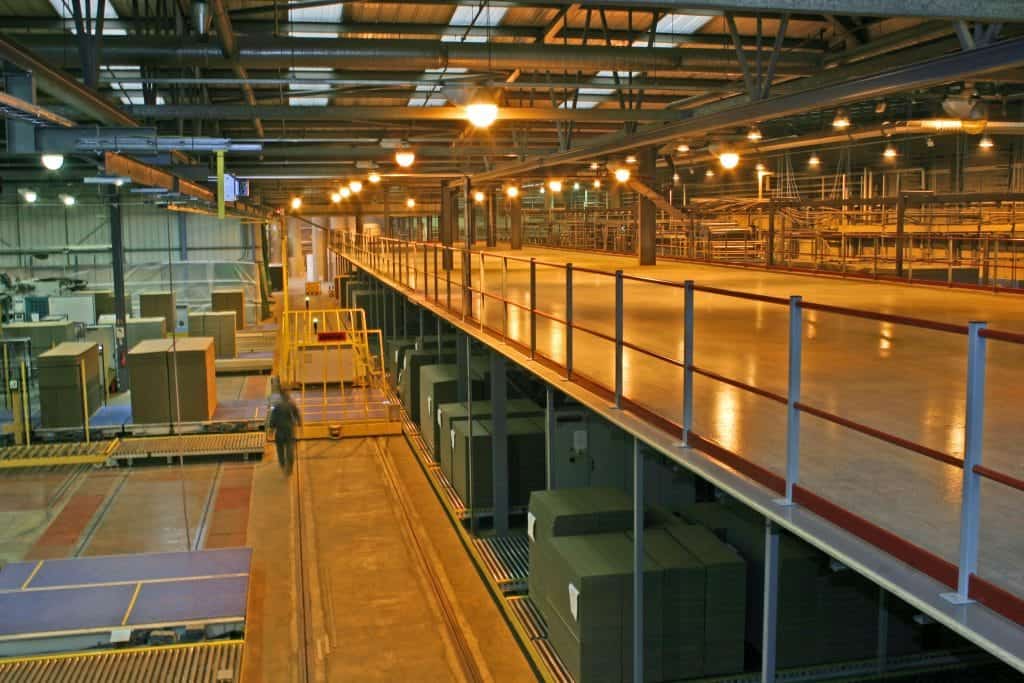 Industrial Premises
Industrial buildings such as warehouses, distribution centres and factories typically have large building structures which enable full flexibility to install large and complex designs. A range of businesses integrate a multi-tier mezzanine, often using one level for storage or office space and the second level for production purposes.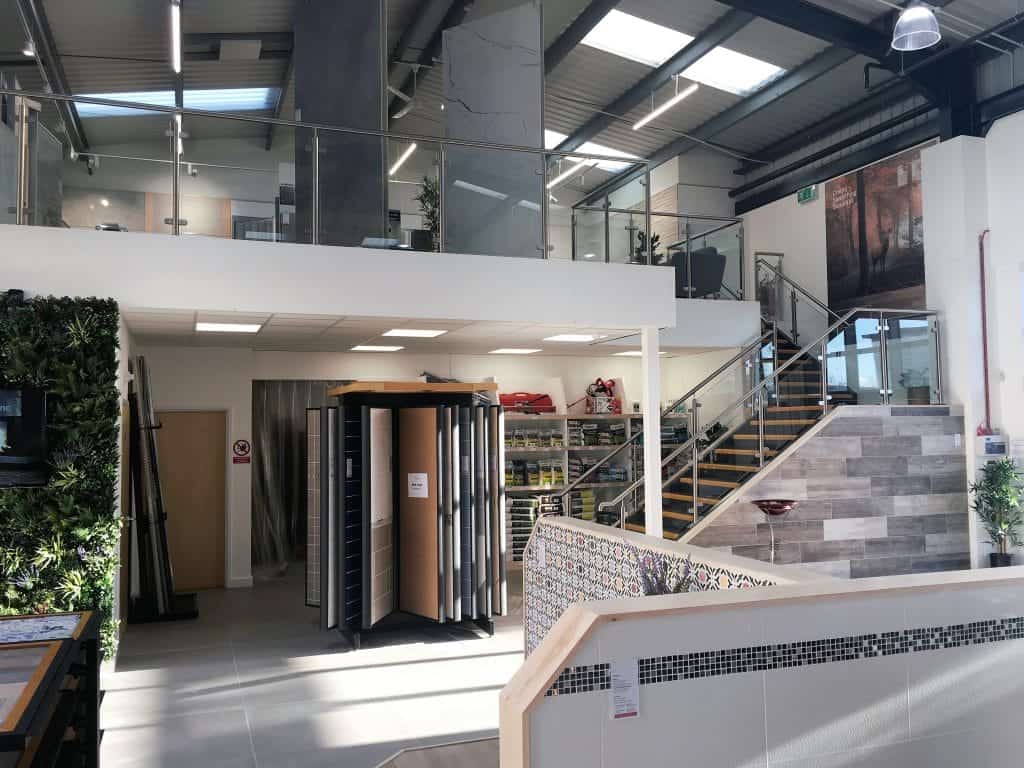 Public-facing Premises
Mezzanine floors are a very popular feature within public-facing environments such as retail stores. This is due to their ability to increase sales per square foot and provide storage in the back end of the shop. Retail stores pose more stringent regulations as the mezzanine is often designed taking into consideration the existing store layout. In addition, the floor must be fire-rated and the type of stair-casing and handrail needs to be suitable for public use.
---
How much loading can a mezzanine floor take?
Depending on how it will be used, a mezzanine floor can be designed to take a loading up to 3,000kg/m². The type of decking will also greatly affect the point load as the 38mm particle board will be ideal for most standard installations whereas the composite decking is designed to be extremely robust and durable. Learn more in our video below:
---
About Hi-Level
Hi-Level designs, manufactures and installs bespoke mezzanine floors predominantly in commercial and industrial premises throughout the UK and Europe. With over 28 years of experience in a wide range of industry sectors, our team are truly experts at what they do. Throughout the project, you are appointed an experienced Project Manager who will ensure all operations run smoothly. Your contact will assist with any possible contingencies, keeping you in the loop to guarantee a successful project. We have a genuine passion for what we do and are committed to delivering the highest quality product and service.